No this is not an April fool's joke. No recipe today. I'm really participating in the Fool For Books
Giveaway
Hop, hosted by I Am A Reader, Not A Writer and The Bookish Snob. It will take place on April 1st and 2nd. Click on the button to see all the blogs participating.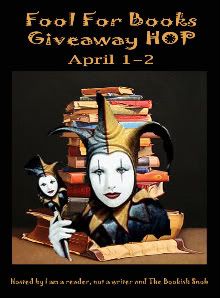 Classic Murder: Mr. Romance
Adam enjoys a lifestyle most men only dream of. Then one day he wakes up to find the morning headlines blaring, "Another victim falls prey to Mr. Romance. Who is next?" He suddenly realizes his way of life is not only frivolous, but deadly.
Dubbed Mr. Romance by New York society for his romantic adventures, Adam Fernando Russo loves women. But lately he realizes how lonely it is coming home to an empty house. Can he settle for only one woman? After he makes a list of qualities worthy enough to merit giving up his desirable existence, suddenly recipients of his coveted attention mysteriously fall prey to a murderer. The murders seem unrelated with one exception--all the victims have recently returned from a fabulous weekend rendezvous with Mr. Romance.
Adam's assistant, Katie Sinclair, knows Adam is innocent with airtight alibis. The police are at a loss so Adam and Katie work together to discover the link between the murders. As luck would have it, their plan to prove the murderer is copying classic Cary Grant movies goes astray just as Adam realizes his perfect woman has been by his side all along.
Check out the trailer and excerpt
here!
Because it's April Fool's, I'm going to tell you my favorite story about April 1st. It may only be funny or cute to me, but it's one I grew up with. Every year, my Mom would pack a 'special' lunch for my dad and send him off to work. She'd practically dance all day with anticipation to hear all about how he enjoyed her 'special' lunch.
If April 1st fell on a weekend, then she would make me, my sisters, and any of the neighbor kids who happen to be at our hours, hot dogs. No they weren't Oscar Meyer, they were rubber. This worked once, but every year? Finally we advised her that it wasn't a surprise or a joke any longer.
Then of course poor dad would come home from work. She'd meet him at the door with a giggle, waiting to hear how his 'special' lunch was. He'd shake his head and say, "Gertrude, you only a pack a lunch for me once a year, and it always has a piece of wax paper in the middle." You'd think she'd give up. Not my mom.
I'm giving out
two give-aways
. A free eBook of
Classic Murder: Mr. Romance
and a
$5 gift card
to Barnes and Noble/Nook or Amazon/Kindle.
What do you need to do to be in the drawing for these two giveaways? Follow this blog and comment on your funniest April Fool Story, don't forget to add your contact information. Good luck!
And don't forget to go to visit to find more blogs, and giveaways!