Authors in Bloom Blog Hop
Welcome to Mary's Garden! Something special is going on in the Garden. Grab a plate and fill it with goodies, don't forget your favorite beverage. There's plenty of seats in the Garden. Let's begin.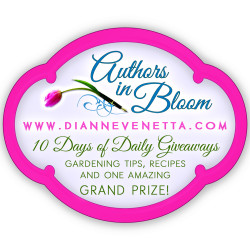 March 27, 2017 through April 5, 2017
I'd like to share a recipe and a garden tip today. First the garden tip:
If you have a
BLACK THUMB
like I do, stay out of the garden and let someone else do it. I know... my Site is Mary's Garden. Not because I am
good
in the garden but because I enjoy sitting in one.
Now cooking is another kettle of whatever, I love to cook, in fact
in my own mind
I'm preparing to be a Master Chef at a world renowned restaurant on a tropical island. In reality, I chop vegetables and pretend I'm chopping and dicing someone who's got on my bad side at my day job. Anyway, before I prattle on, I'll share my recipe.
Spicy beef/sausage Sheppard Pie
This is for a crowd - serves 12. Spray a cake pan with non-stick spray.
Topping
2 1/2 lbs Potatoes - boiled and mashed with a 1/2 cup milk and 1/4 cup butter.
1/2 cup Italian Blend Low fat shredded cheese.
Filling
2 lb Ground Sausage, browned and crumbled. (hot optional)
1 lb Ground beef, browned and crumbed.
2 cups Carrots, chopped.
2 cloves, chopped.
1 1/2 cup frozen peas.
1 cup Onions, chopped.
1 cup Celery, sliced.
2 Jalapeno's chopped. (Optional)
1 pkg Brown Gravy, (2 cups)
Preheat oven to 375 degrees.
Start the potatoes first, peeling them is optional. Once the potatoes are done, use the milk and butter to mash and whip until creamy. Put a lid over the pot and set aside.
In a large frying pan, spray with non-stick oil, add all the vegetables except peas, cook stirring frequently. Once tender cover and turn off heat. In a large pan brown sausage and beef, make sure to use a spatula or a masher tool to crumble the meat. Once done drain and then add 1 1/2 cups water, in the measuring cup add 1/2 cup water to the gravy mix and stir until smooth, poor into the pan and mix thoroughly.
Now add the vegetables and frozen to the meat simmer for about 5 minutes. Pour filling into pan. Spread the potatoes evenly over the top. Sprinkle the shredded cheese over the top. Cook for about 20 minutes.
Enjoy.
WIN - - Everything from books to swag, promotional products and more! The GRAND PRIZE is an ereader of your choice (up to $200 value). A second prize of $25 gift card for winner's choice of book retailers, available to US and INTL residents, except where prohibited by law.
Leave comments at all the blogs you visit to win.
Two lucky winners will have their choice of Three Brides and a Dress OR a
signed copy of Chick Magnet.
Enter here:
a Rafflecopter giveaway
Thank you for dropping by, don't forget to visit all the blogs and discover gardening tips and new recipes.